HADANOMY
Contains lavish amounts of beauty ingredients you want for your skin. Quickly absorbs into the skin!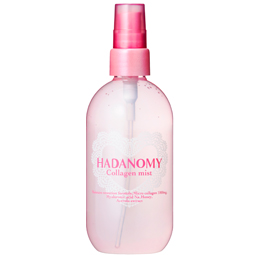 HADANOMY COLLAGEN MIST
250mL 900Yen(Total990Yen)
Quickly, supple skin ★ The deep mist of collagen jelly.
We have succeeded in making a heavy composition of cosmetic-grade micro-collagen*1 that has begun being used in food products and whose beauty effects have attracted attention. free of artificial colors. completed non-comedogenic testing and patch testing.